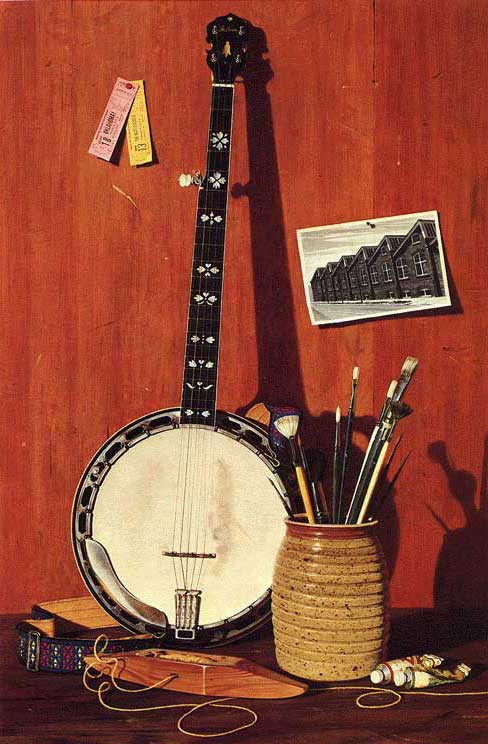 Winston Square Alkyd
In 1949, The Arts Council, Inc. in Winston-Salem/Forsyth County was founded. It was the first such organization in the country. In the early 1980s, the council moved into what is now known as the Sawtooth Building or Winston Square. As part of the celebration for the opening, the council commissioned me to do a commemorative painting to show all the arts taught in this complex. Interestingly, I don't think the council ever knew it, but my uncle once owned the Sawtooth building and ran a car dealership there. So, I was very familiar with the building...it is the simulated black and white photograph pinned to the wall. My first car came out of that building!
In the painting, you see items which indicate the arts taught there, or performed there: painting, weaving, ceramics, photography and music. The music is depicted by the Bluegrass Gibson Banjo since bluegrass music is very popular in Western North Carolina. A print was made of the painting to raise funds for the restoration. The opening ceremonies were for me like a trip to the Moulin Rouge...I was standing by an easel which held my original, turned around, and was introduced to Zsa Zsa Gabor! Interesting where art will lead you! The painting is owned by Wachovia Bank.
Please Note: Appraisals of both original work and reproductions are offered for an appraisal fee of $200.00 per piece. We do not price secondary market prints, paintings, drawings or woodcuts over the internet or by phone for any reason including "insurance purposes". All prints or reproductions that are presently available can be found on the Limited Editions page. If the print you are looking for is not here, unfortunately we do not have it- though you can sign up for the Robert B. Dance mailing for future availability: Click Here. As soon as a secondary market print or original work comes into the studio and appraised, we notify everyone on the mailing list.


© 2015 by Robert B. Dance. All Rights Reserved.
The text, photos & artwork used in this web site are protected under U.S. Copyright Law and may not be used in any form,
in whole or in part, without express written permission of Robert B. Dance.