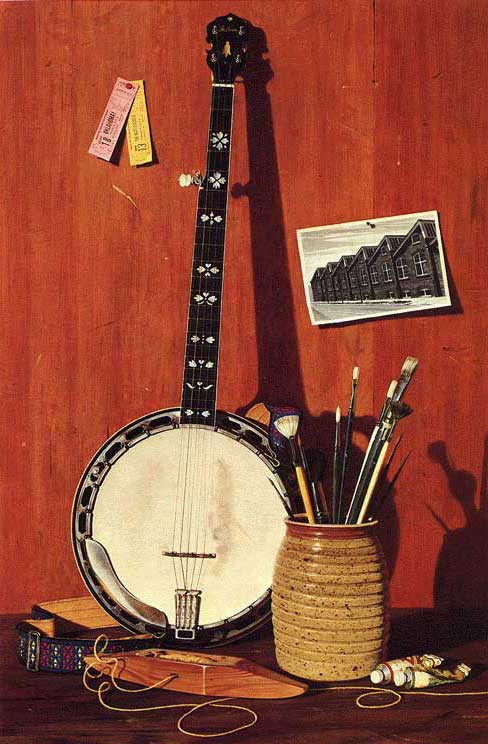 Winston Square Alkyd
In 1949, The Arts Council, Inc. in Winston-Salem/Forsyth County was founded. It was the first such organization in the country. In the early 1980s, the council moved into what is now known as the Sawtooth Building or Winston Square. As part of the celebration for the opening, the council commissioned me to do a commemorative painting to show all the arts taught in this complex. Interestingly, I don't think the council ever knew it, but my uncle once owned the Sawtooth building and ran a car dealership there. So, I was very familiar with the building...it is the simulated black and white photograph pinned to the wall. My first car came out of that building!
In the painting, you see items which indicate the arts taught there, or performed there: painting, weaving, ceramics, photography and music. The music is depicted by the Bluegrass Gibson Banjo since bluegrass music is very popular in Western North Carolina. A print was made of the painting to raise funds for the restoration. The opening ceremonies were for me like a trip to the Moulin Rouge...I was standing by an easel which held my original, turned around, and was introduced to Zsa Zsa Gabor! Interesting where art will lead you! The painting is owned by Wachovia Bank.