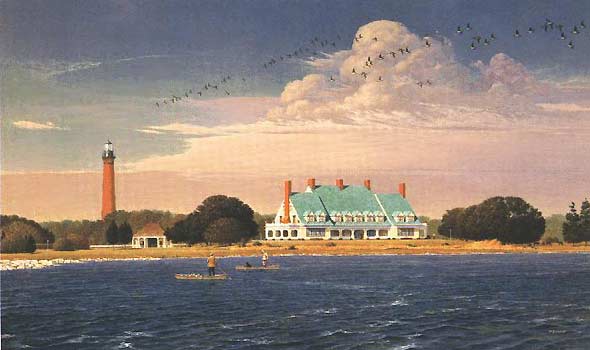 Return to Whalehead Alkyd
About 1994, I was contacted by a committee involved in the Whalehead property about the possibility of doing a painting of the property as a means to raise funds for the restoration of the beautiful building and grounds. Earl Slick was a member of this committee and had owned several of my paintings, and I think this was a prime reason they sought to seek my help in this project. The idea was to have the original art done, and then to do a limited edition print to raise funds for restoration.
I was familiar with the Duck and Corolla area because I had previously been commissioned by Phillip Hanes to do a painting of the Currituck Duck Hunting Club which is no longer in existence. At that time, Mr. Hanes was kind enough to show me several of the famous duck hunting clubs of the area...... including the Whalehead Club. Needless to say, I was very impressed by the Whalehead Club and jumped at the chance to paint it.
All my paintings require a great deal of research before I lift a brush. The committee wished to have the Whalehead painted as it appeared in it's early days. This involved researching early photographs of the club and choosing an angle to depict the club. I made several drawings from different angles which required the use of a boat. Also, architectural details had been changed on the building and the interior at that time was in disarray from years of neglect before and during World War Two. Wild ponies were actually on the porch during my days of research.... requiring one to be careful where he put his feet when walking across the porch. Many interior elements were no longer there, but, the wonderful piano was there and was a marvel to look at. I was also struck by the beautiful turquoise color of the roof which was caused by the patina of salt air on the copper roof. Additionally, I decided to climb the lighthouse to consider a view from that vantage point. I had to sign a release in case I had a heart attack on the way up.
I submitted two pencil sketches and the committee selected the view they desired. I think the painting took me three to four months to complete because of the complexity and the elements involved. There are 85 Canada Geese in the painting, five wild ponies, five figures, one black Lab, two duck hunting boats, and numerous architectural areas changed back to their original appearance. When the print was released, a special edition had a hand drawn remarque and a hand made decoy was offered with one limited number of prints. It proved to be a very popular print and sold out in short order.
Please Note: Appraisals of both original work and reproductions are offered for an appraisal fee of $200.00 per piece. We do not price secondary market prints, paintings, drawings or woodcuts over the internet or by phone for any reason including "insurance purposes". All prints or reproductions that are presently available can be found on the Limited Editions page. If the print you are looking for is not here, unfortunately we do not have it- though you can sign up for the Robert B. Dance mailing for future availability: Click Here. As soon as a secondary market print or original work comes into the studio and appraised, we notify everyone on the mailing list.

© 2015 by Robert B. Dance. All Rights Reserved.
The text, photos & artwork used in this web site are protected under U.S. Copyright Law and may not be used in any form,
in whole or in part, without express written permission of Robert B. Dance.