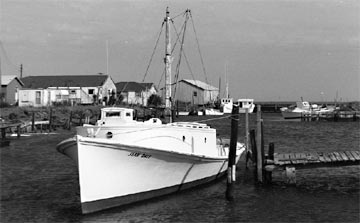 Despite her graceful lines, the Jean Dale was constructed strictly as a working boat in the 1940s. Handcrafted of longleaf pine and juniper planks, the sink netter was built to handle the rigors of year-round commercial fishing as evidenced by these photos of the boat in the late 1960s on Harker's Island.
The Jean Dale
What do you know about the Jean Dale?" I yell above the sounds of circular saws and hammer beats. The September sun is retreating westward toward Beaufort, and the salt-laden air of Core Sound is thick all around. Clarence Willis drives one last nail into a juniper plank and motions for his helpers to knock off for the evening. Tanned island men silently pack up their tools amid the sawdust and lumber and disappear in the fleeting light, leaving me alone with Willis and his son, Junior.
"What you want to know about her?" Willis asks back sheepishly, arms folded, with an old hammer in the crook of one arm and his strong back leaning squarely against the bow of the unfinished wooden skiff. He looks me over with the distrust of a stranger bearing beads for a one-sided trade. I understand his distrust. Here on Harkers Island, I'm considered a "dingbatter," an outsider. And it's folks like me-in Willis' and most other natives' views-who've changed this island, its people and their way of life.
"She is a Core Sound sink netter, right? One of the last of her kind left?" I know enough to ask the right questions.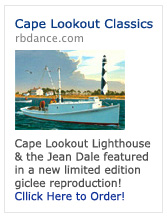 "She was just another fishing boat-the Jean Dale. There was a time when there were 50 or 60 boats like her on this island," Willis responds matter-of-factly. "But there ain't many left anymore." His 71-year-old blue eyes flash back to the past, and I know he knows more. His leathered arms unfold and relax as he continues.
"She was a good sea boat built for Harry Lewis back in the early '40s" Willis explains as he lays down the hammer on a sawhorse. "She was a real fishing boat, maybe 40 foot long. Harry worked her year-round-shrimping and pulling nets," he said. "Sank twice and caught afire once, but they didn't give up on her."
And the Jean Dale didn't give up either. The planked boat, built of heart pine and juniper, was fished nearly continuously for 50 years, Willis explained, bringing back loads of shrimp, gray trout, spot and sea mullet to Harkers Island. Once, Harry sank her off Brown's Island in rough seas with a heavy load of jumbo croakers -maybe 120 to 125 boxes full. "It brigged up on him; and with so much weight, the stem went down. But they raised her and got her dry in a day or two and went back at it again."
Harry Lewis was the sole owner of the Jean Dale. And when he got too old to fish her, his grandson took up fishing the boat for a while. "She didn't owe Harry nothing," Willis said. "She had well paid for herself."
"Who built the Jean Dale?" I blurt out, guessing that Willis knows much more.
"Brady Lewis built her, along with some other men on the island. And I helped work on the Jean Dale when I was young," he explains. "Brady Lewis-well, he's the one that started this (boat-building) mess with the flared bow-'flow'r' we call it, and he taught me too. I quit school when I was 13 and started working for Brady. At first, he would just let me hold the planks. But he got to where he would trust me more to cut the planks."
Famed boat-builder Brady Lewis crafted the Jean Dale, with the help of others including Clarence Willis (above) who was a teen-ager at the time. Now in his 70s, Willis is working with others on Harker's Island to restore the historic fishing boat.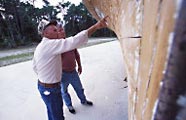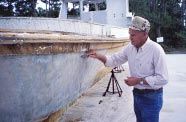 Famed boat-builder Brady Lewis crafted the Jean Dale, with the help of others including Clarence Willis (above) who was a teen-ager at the time. Now in his 70s, Willis is working with others on Harker's Island to restore the historic fishing boat.
The Jean Dale was indicative of the "Harkers Island boat," Willis explained. She was narrow, long and graceful with a distinctive flared bow-made famous by Brady Lewis-and a low transom and a rounded stern to prevent the fishing nets from hanging up when they were pulled in by hand by a three-man crew. She had a fairly flat bottom for a shallow draft to navigate the waters of Core Sound. But the flared bow, with just enough dead rise, helped cut the waves offshore in heavy seas. "The narrower the boat, the more dead rise," Willis said. "A narrow boat was a better sea boat. But you didn't let her get side-to in rough seas. You took your waves head-on. And the round stern worked good for pulling in the sink nets," he added.
The Jean Dale was fitted with a six-cylinder Chrysler gasoline automobile engine and had a 22-inch wheel (propeller), Willis explained. But she could make 18 to 20 knots in good conditions at 3,400 rpm's. And she had a distinctive "doghouse" up front where the captain could pilot her in rough conditions.
Brady Lewis-considered by many the father of North Carolina boat building-is credited on Harkers Island with developing the flared-bow boat. He devised a simple mathematical formula to lay up the narrow juniper planks in various widths in nearly seamless perfection to create the distinctive bow shape. "He just got it in his head, the flow'r," Willis said. "Besides, it makes a prettier boat anyhow."
Before the days of modern fiberglass, Brady Lewis taught Willis and many others on the island how to work out the calculations for the graceful curves of wood. In his nearly 60 years as a boat-builder, Willis has built hundreds of wooden boats, from skiffs all the way up to 70-footers. But he's never touched fiberglass and never will. "Can't stand the stuff. In my opinion, it makes a sorry boat-too easy to bust her with fiberglass. Wood is much stronger. I wouldn't even try to guess at the number of wood boats I've built. I've retired twice from it, but then somebody on the island wants me to build 'em a boat."
That's where this 24-footer he's working on came from. The plans themselves are not written down-each one comes from Willis' head, just like his teacher, Brady Lewis, did it. But too few builders work with wood anymore.
Willis wistfully thinks back. "I wish it was back like it was 20 years ago. There's too few working in the fishing now, and wood and materials are too expensive. There's still some juniper left, but no heart pine. And everybody wants fiberglass now. Used to be people made boats for people who used boats to work and earn a livin'. Then the big people-the moneymen-got into it with fiberglass. Naturally, the dingbatters came in too. They put the damper on us and wooden boat-building."
History of the Core Sounder
Built as a commercial workboat, the clean lines of the Jean Dale, with its flared bow and rounded stern, represent a pinnacle in North Carolina boat building, explains Mike Alford, former curator of maritime history at the North Carolina Maritime Museum. And the lasting popularity of the flared bow made famous by the wooden boat-builders on Harkers Island and Core Sound has spread up and down the East Coast and is still found in an exaggerated form in the modern fiberglass fishing boats of today.
The Core Sounders, as this class of boat was called, once dotted the small harbors of Harkers Island and nearby coastal communities. Sleek and gleaming white, they had a low, graceful sheer that swept up to a smart, flared bow, while the aft end terminated in a low, almost dainty round stern, Alford explained. There was a simple low cabin forward that sheltered a galley, a couple of berths for the crew and a bad-weather steering station. Directly over the station a hatchlike windowed box allowed the helmsman to poke his head up and look around. Built on the island, and in a few nearby mainland communities, they ranged in length from around 35 feet to more than 40 and were powered by single engines.
"In the building of boats, there is a general maxim that changes occur slowly and only when necessary," Alford said. "Probably nothing ever overhauled the boat builder's status quo more significantly, or as rapidly, as did the advent of the internal combustion engine."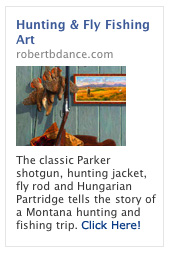 The story of the Core Sounder began when the fishing community began to accept gasoline engine power as a viable alternative to sail. In North Carolina that was near the end of the first decade in the 20th century. Three decades later, the Core Sounder emerged. Although elements of its design and construction can be traced back to sailing craft, the Core Sounder represents what might be considered the perfection of a power-driven hull, explains Alford, not as the end result of a series of modifications to sailing hulls.
Boat-building has always been a major interest in North Carolina since its earliest days as a colony. Prior to the Civil War, boats built with logs were the rule. Following the war, two boat types dominated inshore fish-ery and commercial activities in the state. The round-bottom shad boat, with its versatile sprit-main and jib rig, prevailed in the northern sounds-the Albemarle, Pamlico and Croatan. Core Sound, to the south, was the stronghold of the sharpie-a flat-bottomed immigrant from Connecticut. By the late 1800s, sharpies were found as far south as Wilmington and Southport, and as far north as the sounds extended. But Core Sound was their stronghold.
By the early 1930s, with powered boats everywhere, the new challenge was a demand for "bigger and better" boats that could navigate the shoal sounds, contend with summer squalls and venture into deep-sea fishing grounds. Enter the Core Sounders.
Brady Lewis and those who learned from him began producing the first of the Core Sounders in the 1930s. Earlier versions were typically built on a 4-to-1 ratio of length-to-beam, and were powered by engines of 115 horsepower or less. Just before World War II and immediately after, boats experienced a trend that saw horsepower double in a short time, and length-to-beam ratios began a downward trend toward 3-to-1.
The Jean Dale represents the best of the postwar boats, Alford said. She is simple and clean, and has all the features in the appropriate proportions that give the Core Sounders their distinctive look: low freeboard, saucy bow flare and a graceful round stern. By the early '50s, the use of larger and faster engines resulted in less graceful proportions. Deeper and more robust, the round stern was no longer the sweetly balanced end of a sleek, easily driven hull. At the same time the flared bow sections grew more and more extreme. But the Jean Dale had the grace and charm that well-balanced elements of design give to a boat.