When famed maritime artist Robert Dance paints the open spaces of the sea, you can just about smell the salt air and feel the freshening breezes.
Interview by Lawrence S. Earley
Pamlico Storm Alkyd
The boat is an open flare bowed North Carolina design built on Harker's Island, North Carolina. Most People would probably think the central subjects of these paintings, such as the boats and figures, would be the most difficult to paint. I find the nebulous areas such as water and sky to be the real challenge. My skies and water often have 20 to 30 translucent glazes to give them depth. The effect is similar to looking at light penetrating a stained-glass window.
You're probably best known for your nautical scenes of fishermen in workboats. You've painted sink netters in North Carolina and lobster boats in Maine. What attracts you to these coastal subjects?
It may be because in the 1930's as a young kid I went around the world several times on ocean liners--my father was in the tobacco business. I think it must have gotten into my blood like osmosis. However, in recent years I've discovered it might be genetic. In 1776, Nathaniel Dance painted Captain James Cook and in 1794, George Dance drew a picture of Captain Bligh.

But I've always loved boats. To me a boat is a beautiful thing to look at if it's designed properly. Usually the ones that are designed properly have been designed for a specific kind of usage. It seems that if they work well for the function they were designed for, they are almost automatically beautiful. Form follows function: I think that's true whether the boats were designed on Harker's Island, on the Chesapeake or up in Maine. It seems like the more efficient they are the more beautiful they are. If a boat is ugly, it doesn't work too well.

Blues Off Fort Macon Jetty Alkyd
The title refers to both the color of the water, the sky and the bluefish the fisherman are catching. Back in the 1970s, my sons and I often fished for bluefish from this jetty. Several years ago, the North Carolina Museum of Art contacted several North Carolina artists to do paintings relating to the state. The paintings were then combined into a montage-like mural which was used in the reception area of the Philip Morris Company. I believe this painting was by far the most realistic of the group.
In several of your most powerful paintings, the boats are perched on the edge of the waves so that you can just about feel the great swell of the ocean and sense the smallness of this open boat.
You know, I've had a lot of people comment, "Waves are just not that large." They're talking about the way they look at my paintings. But these people have never been in a fairly small boat--even a 50-foot boat--in very rough water, looking up at the wave. When you are, you realize very quickly that you are out of your element. I think that man and his machines are always dwarfed by the ocean if it's rough. I've been out on boats several times with my wife's brothers in very rough water going to the Gulf Stream, and just got sicker than a dog. And even so, I would not hesitate to go out again the next day. The salt air, the spray, the sound of water when it's rough. I hearken back to that when I paint one of these subjects. I feel like I can hear all that and feel it when I paint it. I think that makes it more authentic.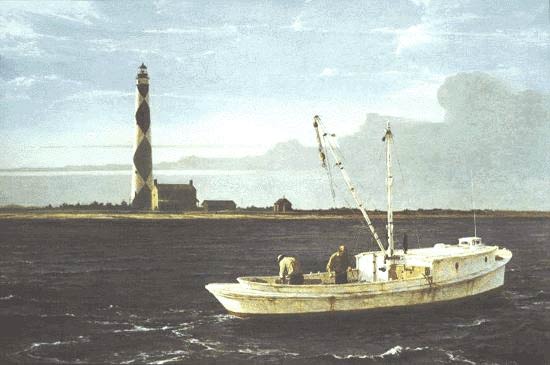 Cape Lookout Morning Alkyd

This painting of a Harker's Island sink netter off Cape Lookout has become one of my best known images. I completed the piece in 1979 before the houses at the base of the lighthouse were restored. Now, 20 years later, a windshield has been added to the top of the boat, perhaps practical, but ruining the vessel's classic lines.
What painters have most inspired you?
I'm a great admirer of Thomas Eakins' early work. I consider him one of the greatest of American artists. He did a lot of sporting work and his "Max Schmitt in a Single Scull" is a panorama in which man was a small fragment but really the center of interest.
If I had to think of a genius living in our time in the visual arts, I'd have to think of Andrew Wyeth. Wyeth is a abstractionist; if you turn his paintings upside down, some of them look very abstract. That kind of thing gives his paintings a geometric strength that not too many artists can come up with, and I was very affected by it, especially early on when I was in school in Philadelphia. Also he has that haunting quality. A lot of my early work looked a lot like that. I would use the muted earth colors that he used. But I feel like my work now doesn't look like Wyeth's. I work in a different medium.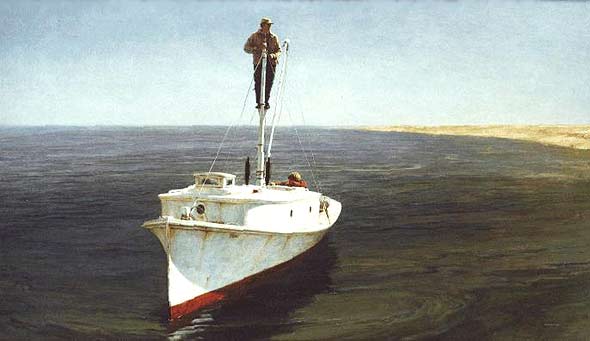 Searching for Shadows Alkyd
Schools of fish near the surface appear as shadows moving across the water. The fishermen are looking for those shadows. Actually, the lower figure is my son Mark, and I posed myself as the upper figure on the mast. The scene is the bight at Cape Lookout wherein previous trips I had noticed that sink netters worked in this area.
You're considered a realist painter. Has that handicapped you in today's world?
I never apologize for what I do because I feel it is one of the hardest kinds of art to do well. In school I could do nice impressionist paintings so easily that I thought they couldn't be worth much if they were that easy. And so I tended to gravitate towards realism, because I think it encompasses just about everything in the arts--compositions, color drawing. When you get right down to it, realism is the study of nature. Nothing is more vital or more interesting than nature.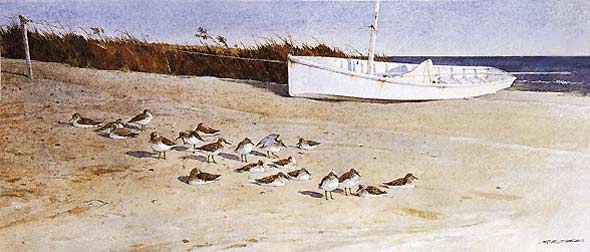 Spritsails and Sanderlings at Rest Watercolor
You seldom see sanderlings at rest. They are the busy little sandpipers that dash after receding waves, looking for a choice morsel, and then dash back before the next wave can catch them. However, at times they do rest in groups, still enough for you to study, but wary of your approach. The boat is the classic North Carolina spritsail skiff featured prominently at the North Carolina Maritime Museum in Beaufort.
How do you work?
A lot of people think, well, he went out and snapped a picture and painted the photograph. In truth, my paintings are seldom the way if found them at the time. The boats are often found at docks, not out at sea; the clouds in the painting weren't there at the time; neither were the geese or the figures. I often pose my sons or friends as figures.
Take my paintings of boats on a wave--most of those boats were found either at dock or out of water. I walk around the boat like that and make photos from every angle, and then put it into a rough-water situation. It's on of the hardest problems in perspective to do, to make the boat look right and in the right perspective, and then have the wave and the hydraulics of the wave functioning in the correct way. And usually the waves are done completely out of memory. You cant set up an easel on the deck and do that kind of painting. Somebody like Winslow Homer could probably do that, but if you're a very meticulous painter you're probably in the studio working on one of these things. I work on them for up to six months sometimes. On a still life, such as "Counterfeit Surf Scoter", I paint directly from the subject.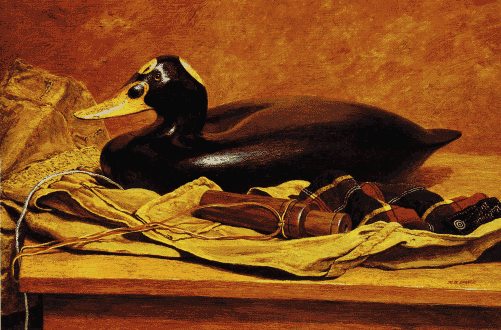 Counterfeit Surf Scoter Alkyd
For several years I participated in the Easton Waterfowl Festival in Easton, Maryland, and won the cover and print competition in 1987. One of the best of the present-day decoy carvers at that festival is Mark McNair, who carved this beautiful surf scoter. I bought the decoy from artist Joe Seme and the decoy sits in my studio today. I sat the decoy on my old hunting vest with a duck call and painted it from life.
Do you work on other paintings at the same time?
I usually don't. I usually find that I have to be extremely enthusiastic about a painting because I have to hold that enthusiasm over a month or three months or six months. You can't begin something that you're not enthused about or it won't turn out right. I usually do from 10 to 12 paintings a year. I work all the time; it's a great regular job to me.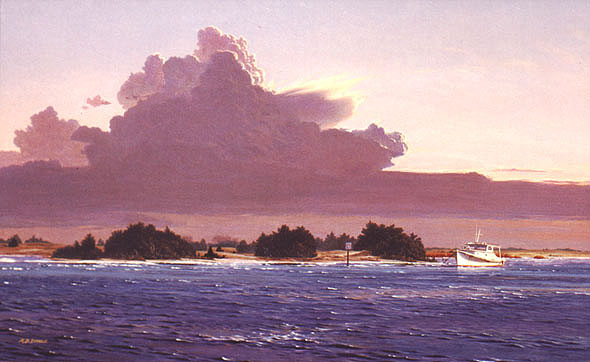 Carrot Island Alkyd
Should you visit the beautiful coastal town of Beaufort, the island across from the waterfront and Front Street is Carrot Island. I have often used the island as a background for many of my paintings. This is actually a cloud painting.
To what lengths have you gone to research a painting?
I've chased cloud formations in my car for quite a distance--20 or 30 miles--just to see what would happen with them and make photos of them. I think cloud formations are just endlessly fascinating to watch, to see how quickly a big cumulus cloud can change. Clouds are full of interesting color and power.
Once I bought two pairs of mallard ducks. What I'd do is get my wife to toss them up into the air and I'd make pictures of them flying so that I could get the right attitude. But each pair built a nest and laid about 30 eggs in it. Before I knew it I had almost 100 ducks in the yard. They would wake up at five in the morning and go into a mating ritual or something, make all kinds of racket. My telephone would start ringing at 5:30 a.m. People would shoot pellet guns at my windows. I finally took the ducks out to a nearby park and let them go, but some of them had flown back into the yard by the time I could get home.
To answer your question, I've gone to great lengths to do research.
--Interview by Lawrence S. Earley
This Interview Originally Appeared In The June 1999 Issue Of Wildlife In North Carolina