Robert Dance is a fanatic. A fanatic about his art, about details, and naturally, about the Chesapeake Bay. All of this ia a very good thing because for many years now Dance has been roaming the Eastern Shore sketching and photographing the scenery. This activity always results in a painting, and the latest to focus on the tidewater area is The Residents.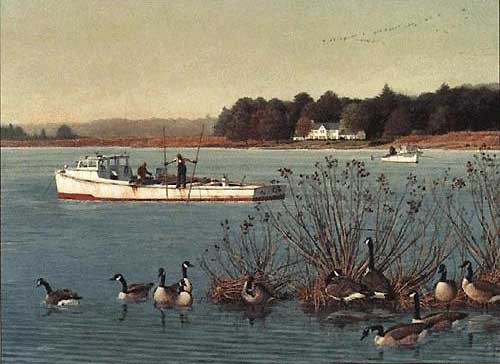 The Residents, alkyd
In The Residents we see exactly why Dance is regarded as one of the most accomplished artists to paint in the realist style. He has literally created a window for the viewer to peer into. There is the foreground and distance of the painting itself, but there is also the vantage point of the viewer. These two combine to produce an effect almost like watching a 3-D movie. You know the canvas is flat, but it looks so real it's a little unsettling. Obviously, this is no accident. Dance produces about six to 12 paintings a year, and on a given piece, there may be 20 to 30 glazes.

Marsh Breezes, alkyd.
Glazing is one of the techniques he uses to create the illusion of distance. Objects in the apparent distance tend to be hazed over and are lighter in color, with ill-defined edges, just as we experience in life. For objects to appear closer he paints sharper edges and more clarified colors. The end result is that we look into another world. One with land, a house, oystermen, geese and most importantly, air and space. Here, Dance has constructed a scene with an atmosphere so real that we can breathe the air and walk off into the distance. This sense of atmosphere is as much a signature of his painting as the Dance name.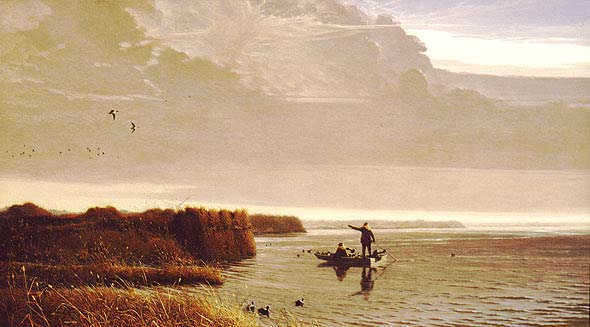 Late Pintails, alkyd.
Limited Edition Reproductions Are Available of 'Late Pintails'.
Click on the painting above for more info!
Detail is another aspect that adds to the overall effect of The Residents. One reason Dance spends time on the Eastern Shore is to gather reference on the boats that are in the area. This may be just an excuse to sail his 17-foot Thistle, but his thorough, accurate renderings leave no room for doubting his true intentions. He works up a painting using a combination of on-site drawings, photographs, and his trained eye. These bits of information are pieced together to depict a given boat accurately. From experience he knows this is necessary. Dance points out that. "A photograph is never perfect. There is always something that's not quite right. Something that's just not working." He often turns an object slightly, or moves it to an entirely different spot in the picture.
| | |
| --- | --- |
| | |
| Ira Hudson Goose, alkyd | 1936 Ward Canvasback, alkyd. |
He is constantly looking for plans of working boats to add to his research files. Sometimes a particular boat cannot be found, so he builds one to scale. Over The Sneakbox was painted using a model of a Barnegat Bay Sneakbox duck hunting boat as reference. Dance constructed the model using plans prepared by Howard Chapelle, former Curator of Marine Transportation at the Smithsonian Institution.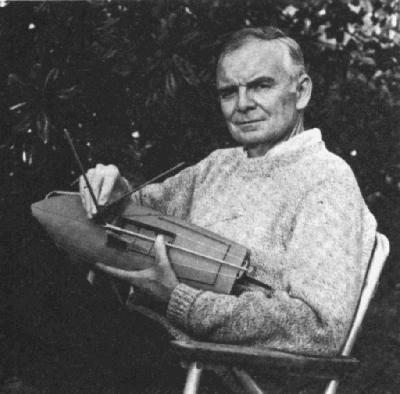 Artist with Sneakbox Boat Model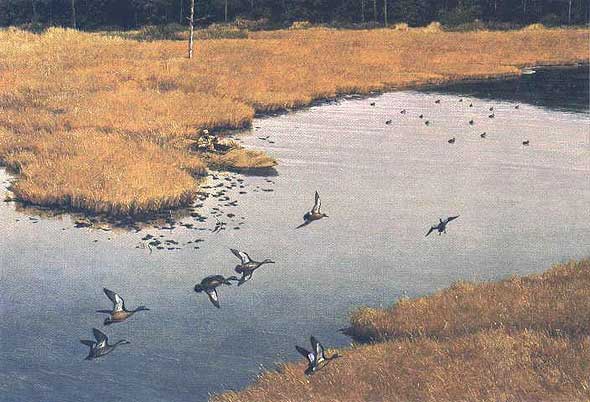 Over The Sneakbox, alkyd
Appreciation for unerring detail and atmospheric effect in Dance's work indicate that he'll be back sailing the Bay to search out material for his next painting. Fortunately, after an eight year hiatus in which no reproductions were published, Dance is issuing prints of The Residents. The scene is typical of the tidewater area, and was a favorite when shown at last year's Waterfowl Festival in Easton, Maryland.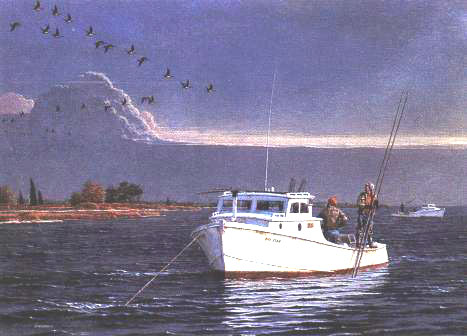 Eastern Shore Autumn, alkyd. Winner of the 1987 Waterfowl Festival Book
Cover and Print Competition.
Dance has exhibited work at the Mystic Maritime Gallery in Mystic, Connecticut, and at the opening of the new Maritime Museum in Beaufort, North Carolina. His rendering of a Spritsail Skiff is used in the logo of the North Carolina Maritime Museum. His work has appeared in several publications including Virginia Wildlife, Ducks Unlimited, and American Artist. Dance's work is the collections of several museums and is held in private and corporate collections throughout the country. His paintings have been featured in the books: 40 Watercolorists and How They Work, Painting in Alkyd, and Things Invisible to See. He lives with his wife, Coleman, in Kinston, North Carolina.
This article originally appeared in Chesapeake Bay Magazine, February 1987