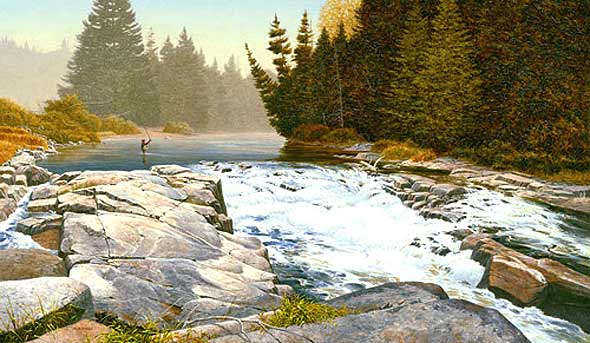 | Fishing the Ausable | Alkyd |
| --- | --- |
A few years ago, I was invited to the Adirondack area in New York State. This painting was among several that resulted from the trip to that beautiful country. The Ausable River is famous for its trout fishing and I am an avid trout fisherman. Watching a truly good fly fisherman handle the line is an aesthetic and artistic pleasure. 'Fishing The Ausable' was featured on the cover of November 2001's American Artist Magazine. I used multiple glazes in the background behind the fisherman to lighten and loosen the definition in that area. This effect melts the background into the atmosphere and contrasts it to the sharply defined and darker foreground.

SIGNED AND NUMBERED LIMITED EDITION REPRODUCTIONS AVAILABLE
Edition: 750
Size: 10 1/2" x 18"
Price: $110
CLICK THE ICON ABOVE
ORDER BOTH FOR A DISCOUNTED PRICE BELOW

Get The Set!

Buy Both 'Fall Rainbows' & 'Fishing The Ausable' At A Discounted Price!
SIGNED AND NUMBERED LIMITED EDITION REPRODUCTIONS AVAILABLE


Edition: 750 EACH*
Size: 10 1/2" x 18" EACH
Price: $200 FOR THE PAIR

CLICK THE ICON ABOVE
* Edition numbers will not match