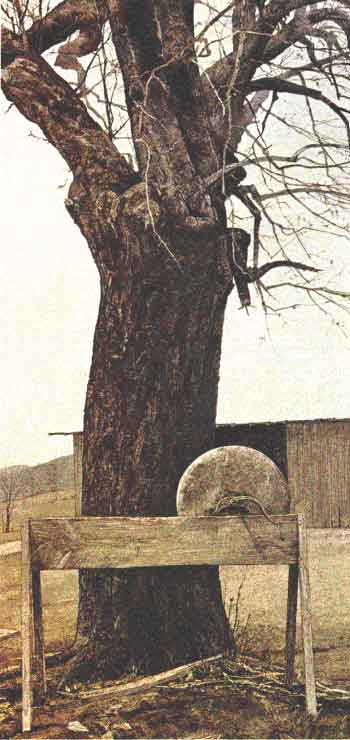 Handy's Wheel Watercolor
Handy's Wheel struck me as a possibility when my family visited an elderly couple's farm near the Blue Ridge Parkway in Patrick County, Virginia. Mr. Handy let my two sons ride his pony and look for arrowheads in his garden, while I looked for watercolor subject matter. This tree was pruned and gnarled, and it looked as if it had battled the harsh winters of this mountainous area for some years. The elements constantly challenge things on a farm such as this? the grinding wheel has collapsed since this painting was finished? but it is just this quality of weathered change that keeps me returning again and again to such a farm in search of new material. The "image" of this lone tree near the grinding wheel struck me, and it is this first "atmospheric" impression that I use to guide me to the finish. This mental impression exactly pictures what I'm trying to achieve, and the process from then on is trying to achieve this goal on paper.
Please Note: Appraisals of both original work and reproductions are offered for an appraisal fee of $200.00 per piece. We do not price secondary market prints, paintings, drawings or woodcuts over the internet or by phone for any reason including "insurance purposes". All prints or reproductions that are presently available can be found on the Limited Editions page. If the print you are looking for is not here, unfortunately we do not have it- though you can sign up for the Robert B. Dance mailing for future availability: Click Here. As soon as a secondary market print or original work comes into the studio and appraised, we notify everyone on the mailing list.


© 2015 by Robert B. Dance. All Rights Reserved.
The text, photos & artwork used in this web site are protected under U.S. Copyright Law and may not be used in any form,
in whole or in part, without express written permission of Robert B. Dance.